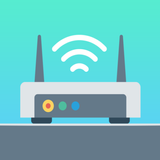 Control your home router settings through your mobile phone
The application enables you to enter the settings page of the router to access the basic functions
It is an application that solves all the problems of Internet routers, as there are some people
Facing a problem in controlling the Internet, from adjusting Internet settings, and changing them,
Through the application, you can easily change these settings.
- It is one of the best easy-to-use light applications, which was released in 2021
Its size is about 9MB, which makes it suitable for all versions of smartphones
As the number of its users has reached about 500,000 people around the world as a result of its support of systems
Operations for smartphones, Arabic and English as you wish, and a group
There are different types of routers in different telecom companies such as We, Orange, Vodafone,
and Etisalat
Application features
:
- View Wi-Fi settings, change the network name or password, and control
The maximum number of connected devices on the Wi-Fi and hide or show the network.
- Determine the Wi-Fi speed to 6 megabytes and control the Wi-Fi signal strength.
- View connected and active devices on Wi-Fi.
Displaying landline data with a clear Arabic translation for each item.
- Adjust service provider account settings with the ability to save account data for later use easily.
You can also reboot the router or go back to factory settings with the press of a button.
The application supports the Arabic language and is easy to use.
- The application supports all types of routers, and if they are not all, it supports most of them.
What types of routers does the application support?
✅ DN8245V
✅ DG8045
✅ HG630V2
✅ HG633
✅ HG531V1
✅ ZTEH188A
✅ ZTEH168N
✅ ZTEH108N
✅ VN020F3
✅ VMG3625
✅ TP-Link TD-W9960
✅ TP-Link TD-W8968
✅ TP-Link VR600
✅ TP-Link VR400
✅ TP-Link VR900
✅ TotoLink ND300
To download